Lawyer Marbella
Looking for an experienced lawyer in Marbella for buying, selling or inheriting that speaks English, Dutch or Swedish? C&D Solicitors is specialized in property law in Andalusia for both urban and rustic properties. We can handle your project in Marbella on a full-service base from A to Z through a Power of Attorney signed at the notary. With this document we can apply for your fiscal NIE number, open a bank account for your future direct debit, sign private contracts and title deeds, apply for mortgage loans and handle all taxes plus after-sales issues. In this process the legal investigation of the lawyer for your house, villa or apartment is very important, especially when it comes to legality and potential debts. These legal checks are essential for a safe purchase, both when it concerns an existing building or a new build property from a developer.
Lawyer Marbella for investing in real estate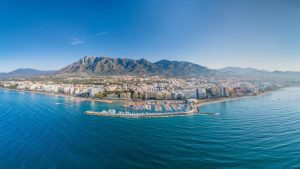 Luxurious Marbella, with its picturesque old town in true Spanish style and its luxury harbor of Puerto Banus offers spectacular housing, as well as well-situated flats and duplex homes. The city is always bustling with activity and attracts foreigners and celebrities from all over the world. The area offers both expensive and luxury homes, as well as a wide variety of more affordable apartments and houses. The huge popularity of the city makes every investment a potential success, including for renting-out to tourists. If you are thinking of buying a home in Marbella, do not hesitate to contact the lawyers of C&D Solicitors for a free offer or free first meeting. Also we can study your case for obtaining a Golden Visa through a real estate investment if you are a non-EU-resident and want to buy a property of over 500.000 Euro.
Experienced law firm that speaks English, Dutch, German, French and Swedish
Buying or selling in Marbella? C&D Solicitors has more than 10 years of extensive experience in legal advice to foreigners in the processes of buying and selling homes, houses as well as flats or apartments, existing or new build. Step by step our lawyers help you through the entire and complex process or help you in part if you so desire on a modular base. We also are happy to legally advise you in cases of inheritances/probate or signing your Spanish will (very important for fiscal residents in Spain).
Mainly our clients are from the United Kingdom, the Netherlands, Belgium, Norway, Denmark, Finland and Sweden. Our lawyers and co-workers speak Spanish, English, Dutch, Swedish and German, so do not hesitate to contact our office. We have a client-friendly policy that you will always get a response from our lawyers in less than 24 hours.