Lawyer Nerja
If you are looking for a solicitor or lawyer in Nerja or the Nerja area (Nerja-Maro, Frigiliana, Torrox, Competa) for buying, selling or inheriting please don´t hesitate to contact us at C&D Solicitors for a free first appointment. The lawyers at C&D Solicitors are very well acquainted to the Nerja and its surrounding villages where we have guided a large number of urban and rustic purchases and real estate transactions since our founding in 2006.
Buying a house in Andalusia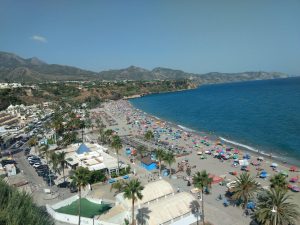 Nerja has about 25 000 inhabitants, of whom about 5 000 are resident foreigners, mainly from the U.K, Germany, The Netherlands, Belgium and Sweden. Nerja is located in the eastern part of Costa del Sol, about a 55-minute drive from the residential city of Malaga with its large international airport. The family friendly town enjoys terrific sunny beaches, awesome cliffs and wonderful mountains in its official nature park with many trekking paths.
The centre is very charming with many bars and restaurants which makes Nerja an ideal holiday destination. The Nerja Caves and viewing point Balcon de Europa are famous in the whole of Spain and even in the rest of Europe. Because of the exception climate Nerja attracts also many tourists in winter which makes it an ideal destination for foreign investors that want to buy and rent out a property.

Lawyer in Nerja for legal representation 
C&D Solicitors has more than 10 years of extensive experience in legal conveyance advice to foreigners in the processes of buying and selling homes, both rural and urban, houses and villas as well as apartments. Step by step our lawyers help you through the entire and often complex process on a full-service base.
We can legally represent you by a Power of Attorney signed at the notary and assist you with your NIE application, bank account, mortgage loans, RTA rental license application, legal investigation, the signing of contracts and title deeds, transferring service contracts and providing you with tax advice. We also handle inheritances, Spanish wills and probate procedures.
English, Dutch, Swedish and German speaking lawyer
C&D Solicitor´s customers are mainly from the Netherlands, Belgium, United Kingdom, Norway, Denmark, Finland and Sweden. Our lawyers and co-workers speak Spanish, English, Dutch, Swedish and German and we are situated in Torrox-Costa, just a 10-minute drive from Nerja. Do not hesitate to contact our lawyers and office, we will respond in less than 24 hours and would love to welcome you in our office for a first free meeting.