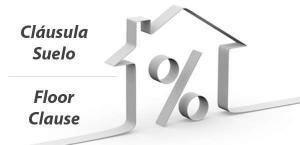 CLOSER TO A DEFINITIVE SOLUTION FOR THOSE AFFECTED
The first thing I would like to do is inform you that C&D Solicitors has signed a collaboration agreement with the Sevillian law firm Gallego & Rivas, which specialises in financial and banking law.
On the basis of this agreement, Gallego & Rivas have offered to study the documentation of homeowners who may be affected by a "floor clause" (cláusula suelo) in their mortgages, free of charge. At the end of this article, we will explain how those affected can get access to this service.
First of all: What is a "floor clause"? A mortgage is said to have a "floor clause" when, in a variable-interest mortgages, there is a clause in the Deed of the Mortgage Loan establishing that the interest for this mortgage cannot be lower than a certain threshold.
In other words, in this case, the mortgage cannot benefit from a low interest rate and from the successive drops that may occur, as the minimum interest rate is "shielded" and any interest rate set below the one established in the "floor clause" cannot be applied. For several years, the Euribor rate has been very low and these clauses have represented considerable losses for many customers.
For the last few years, there have been many legal proceedings in Spain brought by people affected by "floor clauses" in their mortgages. In fact, almost five years ago, we published our first article about this matter, echoing the first judgments. We should keep in mind that mortgages with "floor clauses" were common until 2009 or 2010.
Most judgments have sided with the complainants. Likewise, the Supreme Court pronounced itself in May 2010, declaring these clauses null.
So far, the legal arguments are clear so people with a "floor clause" in their mortgages have a very good chance of obtaining a favourable ruling. Such ruling would order the bank to eliminate the "floor clause" of the mortgage, as well as to return the money that customers have overpaid in their mortgages, in addition to the legal costs of the proceedings.
In its judgment of May 2013, the Supreme Court, in its legal reasoning, only ordered the banks to return the money unduly charged to customers from 9 May 2013 and not since the clause started to be applied to the customer. I.e. what was unduly charged before that date was not eligible for a refund.
The Supreme Court appealed to the economic turmoil that it could represent for banks to return the total amounts unduly charged to customers before 9 May 2013 as, considering that there are thousands of mortgages affected by a "floor clause", banks would be forced to refund billions of euros to their customers.
Due to the controversial nature of this legal reasoning, a Commercial Court in Granada raised a prejudicial question to the Court of Justice of the European Union (CJEU) so that it would pronounce itself on whether banks should refund the amounts overcharged to their customers from moment that the "floor clause" in their mortgages was applied instead of from 9 May 2013.
On 26 April, the CJEU held the public hearing on these proceedings and, on 12 July, the advocate general of the CJEU will present his findings. At the end of the year, we will know whether Spanish banks will have to return everything unduly charged or just the amount overcharged after 9 May 2013.
It seems that there are good chances that the CJEU considers that everything unduly charged to every customer with a "floor clause" must be refunded. The decision is transcendental since –according to some sources– we are talking about 7 thousands millions of euros.
These 7 thousands millions of euros would be added, to the 5 billion euros that banks are estimated to be required to refund to customers, for everything unduly charged from 2013 to the present day.
Regardless of the date set by the CJEU, "floor clauses" are abusive and those affected have the right to file a complaint to get their money back. This is why we have signed an agreement with the law firm Gallego & Rivas, which has offered to study the documentation of homeowners who may be affected by a "floor clause" (cláusula suelo) in their mortgages and provide them with a short report on their situation.
The study of this documentation would be free of charge and legal advice would also be provided to recover the money lost and the cost of the proceedings. Customers can then decide whether they want to initiate legal proceedings.
Later, according to the number of persons interested in taking legal action against their banking institution, we could set up a day at our office in Torrox-Costa (Malaga) so that those affected by a floor clause in their Mortgage Deeds can get first-hand contact with Gallego & Rivas.
Ultimately, the affected person will get a specialist lawyer to study his case at no cost and advise him of the potential actions he may take to recover the money, as well as the cost of the proceedings.
If you are interested in getting this consultation free of charge, the way to proceed is to contact us at info@cdsolicitors.com, giving us your contact details and sending us a copy of your Mortgage Deed as well as the latest invoice for your mortgage loans. We will be happy to help you and clarify your legal status.
Author: Gustavo Calero Monereo, C&D Solicitors (Lawyers)
Torrox-Costa (Malaga/Costa del Sol/Nerja/Andalucia)