Clients Testimonials
Reviews on C&D Solicitors
C&D Solicitors in Malaga, Andalusia, is very proud of the positive client reviews below that we gathered through the past years. No two projects are the same so we always do our best to try to find the balance between an optimized process and the personal touch with the client. However, we are always happy to receive any suggestions for improvement for the future. If you like, you can also have a look on our Google reviews or Facebook reviews.
Michael and Susan Bannon (apartment in La Herradura)
My wife and I used C&D solicitors Torrox Costa for our purchase of an apartment on the Costa Tropical. From the very first contact C&D were very helpful and very well informed. Everything was clearly set out in the form of a comprehensive quotation.
As our purchase proceeded it quickly became clear it was not straightforward. There were issues surrounding the services and the agents selling the property were slow to respond to queries raised.
We are very grateful to Guillermo who went above and beyond to finally secure the apartment. We are indeed grateful to all of the C&D staff who were always ready to assist. We finally visited C&D in November to tie up loose ends and collect our deeds. Meeting Guillermo and Paula at C&D could not have been more pleasant. They were friendly and could not have done more including drawing up a Spanish will for us
We highly recommend C&D solicitors.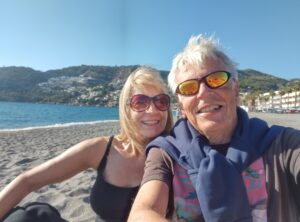 Peter en Jacqueline (house in the Granada province)
We are very happy that we have chosen to hire a lawyer to buy a house in Spain. And then also as good as C&D lawyers. Partly because they speak several languages, Spanish, Dutch, Swedish and English. They took everything off our hands because we ourselves were back in the Netherlands. We have authorized them through a Power of Attorney to organize all matters on our behalf. That is why everything has been arranged to our complete satisfaction.
Obtaining a NIE document, a bank account and transferring the utility companies is also neatly arranged. And ultimately the signing of the transfer of the house was done by the lawyer. We have now moved into the house and feel at home here!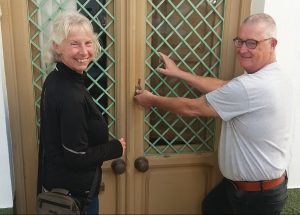 Elizabet & Ad Hooijen (house purchase Almogia, Malaga)
We had been looking at the possibilities of buying a house in Andalusia for a while. After a search we found a house in Almogia. This white mountain village is a half-hour drive from the center of Malaga – airport and beach. We wondered how to arrange all this and then got in touch with Ariane from C&D Solicitors. From the beginning the feeling was very good and felt familiar. Ariane, Felicia and Guillermo arranged everything for us. I recommend C&D Solicitors to anyone intending to buy a house in Andalusia. Absolutely great!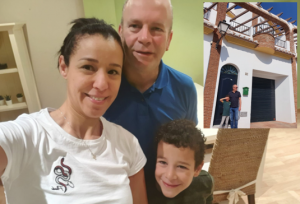 Frans & Myrna Kasander (house purchase Nerja)
Recently we bought a house in Nerja. We are very satisfied with the help we have received during the process of buying our house. We would highly recommend C&D solicitors to other buyers.
Tony Carpenter (2 house purchase Costa del Sol)
I am happy to provide a brief testimonial regarding the services of C&D Solicitors. I have purchased two small to medium-sized properties on the Costa del Sol for use as family homes; a flat and a detached villa. For both these purchases I relied on C&D Solicitors to handle all the administrative and legal aspects regarding these projects. Their competence and "User Friendly" style made the whole process very easy and trouble-free. They know exactly what needs to be done and when. Everything is clearly explained upfront to the client. Almost everything, from the client's point of view, can be handled remotely via email. Overall a very efficient and professional approach.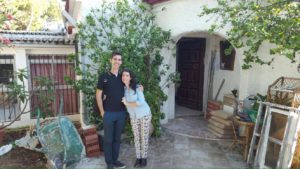 Henri & Mathilde (purchase house Motril, Granada)
What luck! It surely wasn´t the first time that we came to Spain and one of us speaks Spanish well, but when we decided we wanted to buy a house -just to be sure- we contacted a law firm. This was C&D Solicitors in Torrox.
The law in Spain is very different than in The Netherlands or Belgium and the purchase of a house is legally pretty complicated. That´s why we are very happy that law firm C&D assisted us. An extra advantage was that employee Ariane is Dutch and we could communicate with her in our own language. She told us that the man from which we wanted to buy the house, should have arranged the DAFO certificate, but because he didn´t do so, we were able to negotiate to have a significant sum deducted from the purchase price.
The completion was arranged through Power of Attorney by our lawyer Guillermo and he translated the title deeds for us in English. All perfectly arranged by law firm C&D Solicitors in Torrox. Truly to be recommended!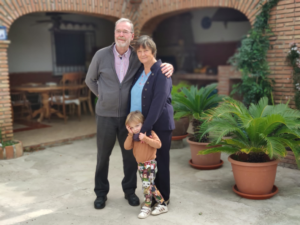 Paul Weir (Inheritance & sale Torrox)
I and Louise would like to thank you for the service you and your colleagues have provided us over the last 12 months for the inheritance and sale in Torrox. The level of service we have experienced with your company compared to our previous lawyer does not even compare….so please accept our sincere thanks. A special thanks also to Felicia as she has been our main contact and kept us very well informed on the different processes involved and costs we're likely to incur.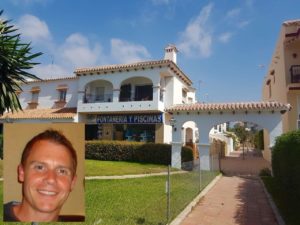 Dinah Roberts & Simon Edwards (townhouse Comares)
We would like to thank Francisco, Felicia and team at C&DS for their assistance and expertise with our house purchase in Comares. Initially recommended to us by our estate agent, we found the team professional, conscientious and friendly, paying great attention to detail and working with our best interests in mind at all times. They guided us successfully through the complex and unfamiliar steps that accompany house purchase in Spain. We have no hesitation in recommending C&D to any prospective clients. Thank you Francisco and team, it was a pleasure doing business with you.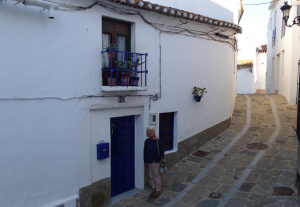 Paul & Riny Ernst (purchase house Arenas)
C&D Solicitors guided us really fine through the purchase process of our dwelling in Spain. Through the internet we sought for information to pay extra attention to when you buy a house in Spain. The most complete information we found on the website of C&D Solicitors in Torrox. Especially for the legal aspect and the DAFO procedure they provided very detailed information. Information about it in our own language and the communication with a Dutch employee was for us an important point.
When it turned out that they even have their office in the area of our choice, the choice was quickly made. During the whole process we were guided excellently and we didn´t have to worry about anything. Shortly, for us this has been a good choice and for people in the same situation; definitely a recommendation! Ariane & Gustavo, thank you very much.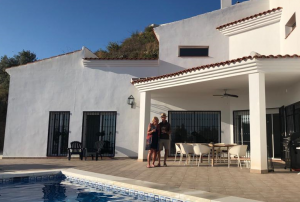 Doron & Sarit (apartment purchase in Torrox)
C&D Solicitors were personally recommended to us by the Real estate agent Richard and this recommendation turned out to be one of the best recommendations we received. During the purchase of the apartment, we were assisted many times by the professional staff of the office. For every inquiry or question to C&D Solicitors office, we received a professional answer. When you are far away it is very important to have someone that can handle all the process for you, so kind, so nice, with an open heart and intention to help- Dear Felicia, thank you very much for all the emails with all the details. Felicia, Francisco and Guillermo – thank you so much.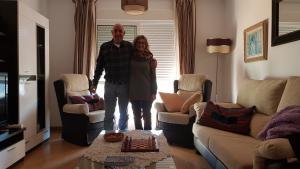 Ton & Joke van Schie (purchase villa Archez for B&B)
When we, in October 2017, wanted to buy our house in Archez, we were referred by our estate agent in Competa to C&D Solicitors. We have contacted Ariane and this went all smoothly. A few days after our verbal agreement we had a meeting in their office in Torrox with Ariane and Francisco. We received a very clear and specified offer. Francisco already had prepared some background information and we went back to Holland with a good feeling.
During the process some points of attention submerged. We, therefore, had regular and pleasant contact with Ariane. It indeed is very nice to email to write and speak in your own language. In this way we were kept up to date on all progress.
Half April we had the completion. Not all has been finished yet, but Francisco is looking after our interests and we have full confidence that the process will be finished correctly. In the meanwhile also our Spanish last wills have been signed. Ariane & Francisco, thank you for everything!! We would like to recommend C&D to everybody. It´s very comforting to receive good and honest advice when you buy a foreign house. Because this is already exciting enough!! Also see the website of the Bed & Breakfast Villa Archez http://villa-archez.com/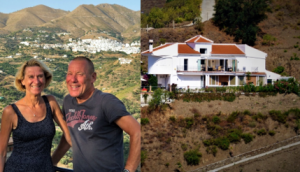 Robert R (Ending of Co-ownership and Cadastre change Salobreña Granada)
As a result of a change of ownership in Salobreña and its registration, C&D has -also through the effort of Ariane van Wijk and her Dutch translations- solved a case that was very complicated to finish correctly. After an administrative waiting time and approval of it due to a measurement of the boundaries and house Mr. Francisco Delgado Montilla has solved this case correctly and has gained our full trust. Thank you again!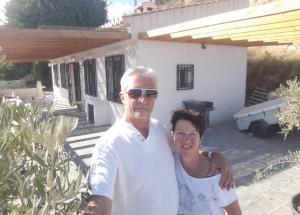 Charles Cassar & Joshua Spijker (country house near Competa)

C&D Solicitors were personally recommended to us. Their multi-lingual approach was an aspect that immediately appealed to us as well as their experience in supporting other Dutch nationals to purchase property in La Axarquia. We are very thankful to C&D Solicitors for the services they provided during the purchase of our dream casa in the La Axarquia countryside. They helped with everything from all of the legal documentation, investigations regarding the property, liaison with the local town hall, securing NIE numbers and opening bank accounts.

In particular Gustavo Calero was incredibly thorough, patient, determined, responsive and supportive during the entire process. He was proactive in proposing practical solutions for challenges we encountered and relentless in ensuring we were successful. Purchasing property in Spain can be incredibly complex (especially compared to other European countries) particularly in the countryside. C&D Solicitors are experts in supporting non-residents to purchase property in Andalucia and we strongly recommend their services.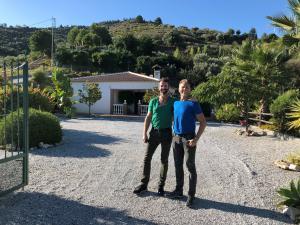 Christoph van den Rul & Lisette Suijkerbuijk (villa in Casarabonela/Antequera)
"We chose C&D Solicitors based on the good comments in a Facebook forum, their knowledge of legal issues in relation to houses in the countryside ánd the very good & clear offer. We have not regretted our choice for a minute: the offer in the end turned out to be exact, the contact was personal and our issues were answered quickly. Besides of this Gustavo found out that our first option of purchase had a problem with the water supply/water well. Because of this information we decided to not go through with this purchase, for which we are very thankful to C&D because in the end we found an even better house.
Thanks to the legal investigation of this law firm we now have peace of mind that we won´t have any problems or surprises with the DAFO application in near future. Shortly: we recommend everybody to contract C&D Solicitors!"
For anyone that´s interested, this is our Facebook blog: https://www.facebook.com/SuenoAndaluz.LaHiguera/.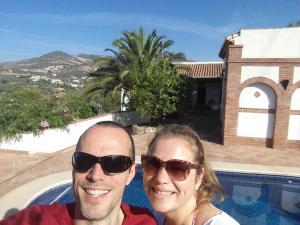 Paul & Mary Page (Torrox countryside house)
At the beginning of our purchase of a rustic property in Torrox we asked C&D Solicitors for an offer for the legal investigation. However, for several reasons we decided that these costs probably wouldn´t be really necessary. The real estate agent that had Power of Attorney from the vendor arranged everything quickly for the sale and we paid the money for the procedure. At a certain point, however, we started to feel that things weren´t right and the agent kept us on a leash when we asked for the correct paperwork.
At this point we contacted C&D again and Gustavo started the legal search where he found out that the property wasn´t correctly inscribed at all in the Land Book Registry and the Cadastre. Therefore the title deeds could not be signed! As we already had paid the money to the agent, we didn´t have any leverage anymore, although the costs normally would have been for the account of the seller. It took us quite some extra money, effort and sleepless nights to finally get the house inscribed correctly in our names.

Looking back we feel we wouldn´t have had these costs and problems if we would have hired Gustavo´s services in the first place. He really did an excellent job according to the circumstances. That is why we recommend to everyone that thinks of buying a property in Andalucia: don´t try to save on the costs of an independent lawyer that can represent you in your negotiations. The Spanish purchase process can be extremely tricky and if you have problems afterward as we did, the costs definitively will be way higher!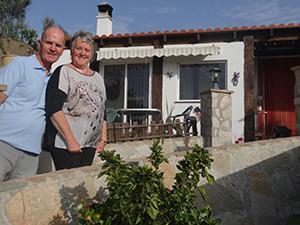 Henk & Maria Hobbel (purchase countryside house Almogia, Malaga)
Why we chose C&D Solicitors? Your kindness and easy accessibility have been really great. You are truly interested, really nice. In this you distinguish yourselves from other law firms that we have hired. Also, you have a good cost-quality ratio; you are our third lawyer in Spain so we can compare well. The final report from Francisco was very professional with an understandable explanation and from Ariane we always received answers quickly, both through phone and email. I can just really recommend you to anyone! Ariane and Francisco, many thanks for guiding us through the purchase process of our house in Fuente Amarga!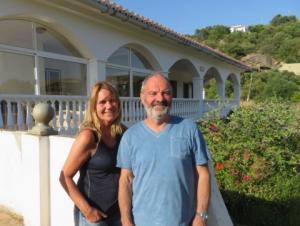 Rien & Jose van Mourik (purchase luxurious apartment Rincon de la Victoria)
After our decision to buy our beautiful apartment in Rincon de la Victoria (Malaga), we through the internet found C&D Solicitors / Abogados in Torrox-Costa, a law firm with Dutch and Swedish staff. Gustavo and Ariane have assisted us through the whole purchase process with advice and action, always available, correct and with a lot of professional experience. They were proactive and provided good information plus advice. On top of it all communication went in a pleasant atmosphere.
We are exceptionally satisfied with the way in which Gustavo and Ariane helped us through the whole procedure. Also after completion this firm has provided us with useful suggestions and tips. Even now if we have questions, Ariane and Gustavo still welcome us with open arms. So resuming; we definitely can recommend law firm C&D Solicitors Abogados in Torrox-Costa to anyone with plans of buying a house or apartment in Andalusia.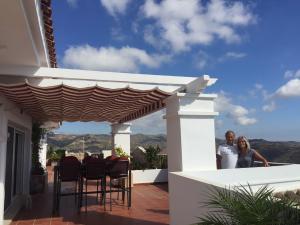 Mark Courtney (purchase house Alcaucin)
I highly recommend this company to pave a smooth pathway in your purchase of property in Spain. I would like to thank everyone at C&D Solicitors for their help in sorting out the purchase of my Finca in Alcaucin. Thank you Francisco for your patience in sorting out a few problems I had and thank you Natalie for the extra info on the area and for arranging my bills to be paid through the bank account that you set up for me. See you all soon in Spain!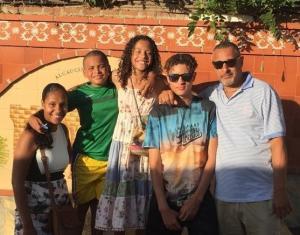 Philippe Colpaert & Eric van Troost (apartment Torrox-Park)
The top agency for the purchase of your dream home in Andalusia. Everything went problem-free and was arranged well by them. Also thanks to Ariane. To answer all my difficult questions kindly and well. I would not hesitate to work with them again.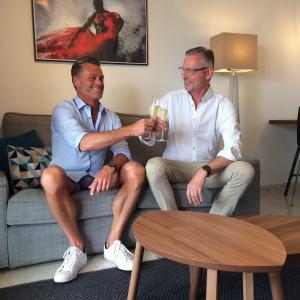 Dave & Ann Ford (country house between Torrox and Nerja)
We had decided to retire to Torrox pueblo and found the ideal house just inside the campo. Having no recommendations and needing English-speaking solicitors, we took 'pot luck' with C&D based on their easy-to-understand and comprehensive website. Francisco and Ariane were excellent and did everything for us while we were still in the UK – from getting NIEs and opening a bank account to completing the purchase and arranging our wills with no hiccups. They answered queries quickly and in detail. Also, their upfront estimate of total costs was very accurate. We have no hesitation whatsoever in recommending C&D Solicitors.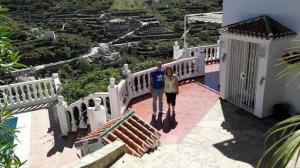 Amanda and Clive Loebenstein-Peckham (urban property in La Viñuela Andalucia)
Gustavo has had to sort some lengthy and complicated matters for us which have been dealt with using patience and care. We would recommend CALERO Y DELGADO ASOCIADOS ABOGADOS SLP to anyone contemplating a property purchase in the Malaga region.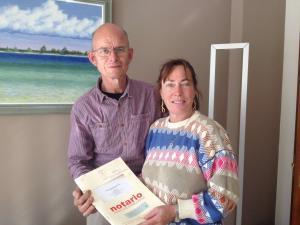 Mike & Hazel Farr (acquisition rustic property in Alcaucin)
C &D were recommended to us and we have received excellent service from them. A complicated purchase was made much easier with the professional and personal service we received from Gustavo Calero. Through all aspects of the purchase we were kept informed and the process was completely transparent, ensuring that we fully understood each step.
Yes, we would definitely use C&D again and have no hesitation in recommending them.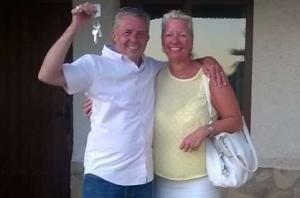 Gary & Dawn Ford (rustic property in La Viñuela)
From beginning to end buying our house in La Vinuela was so easy. C&D Solicitors carried out the whole process absolutely flawlessly. Every question was answered immediately The best service we have experienced from a solicitor.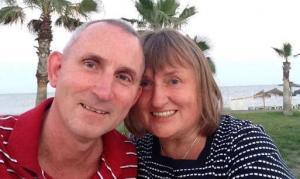 Hans & Christianne Pieters (Apartment in Arroyo de la Miel / Benalmádena)
For a few years we´ve been looking for a place under the sun for holidays and also to later retire. After several trips to Andalucia Spain in 2014 it became clear that this was the perfect region for us. Finally in 2015 we made the decision to buy an apartment in Arroyo de la Miel.
We chose C&D Solicitors as our lawyers based on the positive references on the internet. Francisco and Ariane did an excellent job. We always received a quick response on all our questions. All proceedings they carried out perfectly for us. Everybody that wants to buy a (holiday) home in Spain we recommend to go to C&D Solicitors.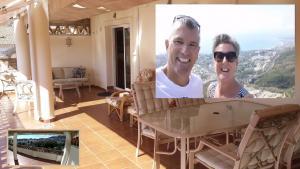 Roberto and Elles Palland (purchase villa between Torrox and Nerja)
"Since spring 2014 we were seriously looking for our dream house in Andalucia. Right away we got in contact with C&D Solicitors and their help has been of great value. Always they were at our disposal. They gave us lots of useful information and have guided us through the whole process fantastically. The contact with Ariane was very professional and pleasant. By now we finished the purchase process of a beautiful house in the countryside of Torrox village (campo). We want to thank the whole team of C&D Solicitors for their nice way of cooperation."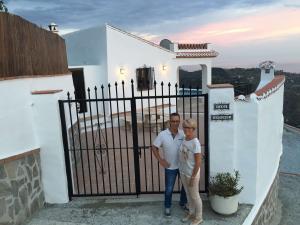 Frank and Jan de Baerdemaeker (luxury villa Sayalonga)
"If you´re looking for a correct and perfect completion for your sale of a holiday home in Andalusia, I can only recommend one address: C&D Solicitors. From A to Z your file is being handled with the greatest care. A perfect follow-up and confidence that you rarely can find nowadays. With C&D Solicitors your dream becomes reality. And I really mean this!!!"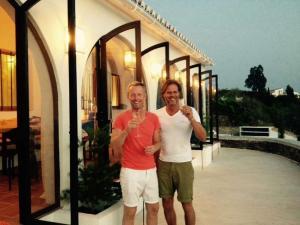 Carolyn and Martin Taylor (Alcaucin rustic Finca)
"We have recently completed the purchase of a beautiful Spanish villa in Axarquia with great towns like Torre del Mar, Nerja, Frigiliana, Competa and of course Sayalonga. C&D Solicitors carried out the property conveyance and all associated legal matters on our behalf, and we could not be more delighted with the service given. We found Francisco and Ariane to be professional and courteous at all times giving very good quality advice in English.
Even when we encountered unexpected delays we were kept fully briefed at all times and we felt that C&D Solicitors genuinely had our best interests at heart. As new buyers in the Spanish market, we were recommended to use C&D Solicitors and we would not hesitate in also recommending them in the future."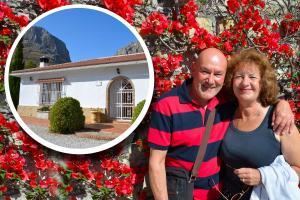 Becky and Pat Stevens (Purchase dream house La Viñuela)
"We would like to say that: Every person working at C&D demonstrated excellent customer service. We were kept up to date at every stage of the process which resulted in a smooth and stress free completion of buying our dream home. We have already recommended C&D to friends. An added bonus is their vast understanding of the English language."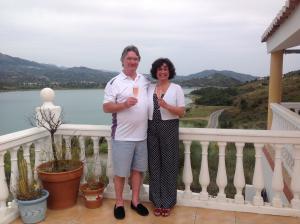 Adrian & Jean Kingsley-Monks (Periana, Malaga)
"We have recently used Gustavo Calero Monereo at C&D Solicitors in Torrox Costa 952532528 to obtain the paperwork for our OLD campo house. He speaks English, was very competent and he kept us well informed. It was a complicated situation that took 18 months and the cost was reasonable. There was even some money refunded from the original quote when the work was finished. We would thoroughly recommend this law firm."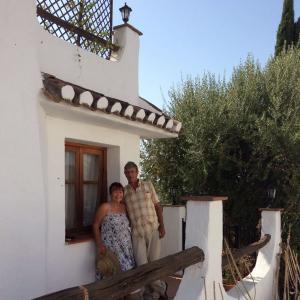 Grahame Phillip Arkcoll (Nerja, Malaga, purchase of apartment)
Although I have bought and sold the property in Spain over the years, I never felt truly comfortable with the solicitors I used, until I was lucky enough to discover CD Solicitors in Torrox Costa when I wished to buy an apartment in Nerja. From our first meeting I felt fully confident in the way everything was explained and the transaction was handled and I was kept fully informed by them of the progress at all times. It was all done within weeks without a single problem, and handled so very professionally and efficiently, that I could not praise their service more.
I will definitely use this company for any of my future legal work and can highly recommend them, although by complete coincidence I now find out that so many friends here are their clients and too are very happy with their representation. A fantastic company!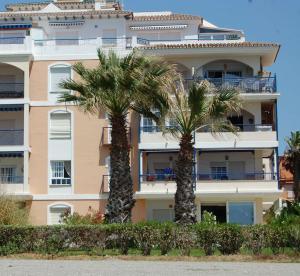 Denise & Bart Slager (Iznate, Malaga, purchase rustic finca)
"During the preparation of the purchase of a house in Spain it quickly became clear that it´s important to use a lawyer for this. We ended up at C&D Solicitors because communication is an important issue in the legal process in a foreign country and the lawyers speak English plus Ariane Dutch. The whole process -from the cost estimation until the after-sales- was clear and we were assisted in a pleasant way. It´s very handy that they take care of transferring the service contracts of electricity and water."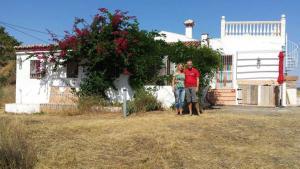 Karin en Ludo Janssens (Sedella, Malaga, purchase rural finca for B&B)
"The smooth communication resulted directly in a pleasant and familiar feeling. We are very satisfied about the whole purchase process and we definitely recommend you this law firm."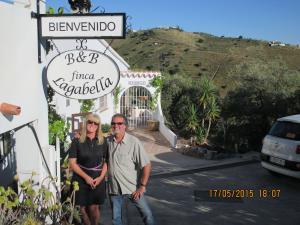 Henk en Maria Veraart (LecrinVallei, Granada, purchase of holiday home)
"We very much want to recommend the legal services of C&D Solicitors to anybody that wants to buy a house in the South of Spain. During the purchase phase we´ve been pleasantly y professionally guided by Gustavo Calero Monereo. A committed lawyer with a lot of expertise that except in Spain could also be contacted easily from Holland. Because the office manager Ariane is Dutch and speaks Spanish well, communicating was extra simple.
We were very satisfied with the information and advice we got, even before we decided to contract C&D. The alert and critical attitude towards all parties we appreciated very much because the buying of a house is a complex process, in which the details, incomplete files and official ruling can cause a lot of long-lasting frustration. We´re happy to have met Ariane and Gustavo on the ´Second Home Fair´ and we´d surely hire the service of C&D again in future."
Brian Bendall (La Viñuela, Malaga, sale of rustic house in Andalucia)
"The perfect advisor for your legal issues in Spain. We recently sold our property in Spain and were guided through the legal process by CD solicitors. They made a stressful and nervous process, easy to follow. Our final meeting with the Notary completed smoothly with each paragraph of the sales agreement (title deeds) explained in English to our complete understanding."
Anthony Treadwell & Maureen Raphael (La Viñuela, Malaga, sale rustic property)
"We would highly recommend the services of Francisco Delgado and C&D Solicitors. Francisco represented us in the sale of our property in Spain. This was the first home we had sold in Spain and we were not going to be in the country during the sale process, which required us to give Francisco power of attorney.C&D Solicitors aim to keep their clients abreast with every development and reply promptly to correspondence, we can certainly vouch for their promise and even if we emailed him late in the day he would often reply within an hour or so of us contacting him.
This definitely gave us peace of mind. Francisco is very experienced and knowledgeable, providing us with sound advice and guidance at all times. We have bought and sold approximately 30 houses around the world and this was by far the most smooth and stress-free, we would have no hesitation in employing his services in the future."
John Murray (Velez-Malaga, Malaga, purchase urban home)
"I would like to commend you on the highly efficient and professional manner in which you have conducted all aspects of your service, including the all-important liaisons with Endesa and Aqualia concerning the setting up of new contracts and arrangements for payment by direct debit of the respective utility bills. I would have no hesitation in recommending your practice to any potential house purchaser in the region."
Anders Rosell& Stephen Wheeler (Alhaurin el Grande, Malaga, purchase rural property)
"We were advised to obtain a quality solicitor, this proved to be very sound advice as the purchase process to buy our house proved rather difficult and quite a complex process compared to most other countries. Thankfully our choice of C&D solicitors was a great choice. Francisco and partner Gustavo were extremely efficient, totally professional and very reliable. We would highly recommend this company, we intend to stay with C&D Solicitors and look forward to continued help, advice and assistance from Francisco."
Helen Wild & Chris Queminet (Almuñecar, Granada, purchase urban house)
"We would not think of buying a UK property without the support of a solicitor, therefore doubly so when the purchase is in another country with different laws and procedures which are unknown to us. We are very pleased that C&D Solicitors were recommended to us as honest and trustworthy. Furthermore, we could be confident in Francisco's dealings with the promoter and agent, that he had our interests at heart.
His support became essential when there were last-minute problems at the completion stage and Francisco dedicated far more time than expected in order to protect our position. Overall, communications were dealt with promptly and always in a polite and helpful manner. And when we need to speak to Francisco urgently, he always returned our call if not immediately available…"
Andrew Pazienti (Alcaucin, Malaga, purchasing a rural home)
"We have recently purchased a property in Spain and used C&D Solicitors. The transaction went very smoothly thanks to C&D Solicitors' excellent step-by-step advice throughout the Legal process. We had heard about a lot of bad experiences regarding property purchases in Spain, we were very pleased with the professional and courteous way they handled everything, we would definitely recommend C&D solicitors to anyone thinking of purchasing in Spain."
Deborah Willis (Alcaucin, Malaga, buying of rustic property)
"We would not hesitate to recommend Gustavo and Francisco to deal with any legal advice and have done so many times. The work and advice they did for us was superb. After wasting many years with other solicitors we were recommended Gustavo and Francisco and have not looked back since. Gustavo has been the only solicitor who has been able to sort out our property problems and we thank them for us being able to see the light at the end of our very long tunnel.
We really can't praise them enough. They are very professional but also have a very good client relationship and nothing is too much trouble for them. Thank you C&D."
Rob van Dijken (Competa, Malaga, purchase finca in ´el campo´)
"I have been very happy with the service from CD Solicitors. They have been extremely professional in all our dealings and have always provided an efficient and reliable service. I wouldn't hesitate to use them again in the future."
Patricia & Gerry Onley (Periana, Malaga)
"…that´s all our news for now, but before I sign off I just want to recommend our solicitor Francisco Delgado of CD Solicitors in Torrox Costa. He was recommended to us by Mike and Selena Ward in our Competa sale and we were very happy with what he has done for us."
Peter Bateman (Alcaucin, Malaga)
"Francisco and his company have acted on our behalf for two years in which time he has very efficiently dealt with our affairs. We have immediate answers, instant action in a nice personal manner covering planning for tax matters to mains electricity connections and even intervening in traffic problems regarding speeding! We would recommend C&D Solicitors without hesitation".
Deborah Robinson (Alcaucin, Malaga)
"We would like to say thank you for the helpful and professional service we received in the sale of our business in Spain from C&D solicitors, as my husband was away in the UK working power of attorney was drawn up, this then meant I was not involved in any Spanish legalities in the sale of the business. I was given an efficient service in English which I appreciated very much and I would recommend them to anybody."
Andre Roberts (Torrox, Malaga)
"We have been pleased with your representation regarding our purchase in Torrox, we have recommended you to some friends who will be purchasing in Spain in the months to come and possibly setting up a business, we will follow up on the introductions once they have concluded their sale in the UK."
Alison Fletcher (Alcaucin, Malaga)
"I have purchased a little house in Viñuela. During the process I had many questions as this is the first time I have purchased a property abroad and nothing was too much trouble, quick and full explanatory responses to all my queries, and information at each stage of the process. I only wish we had the same sort of service in UK as more often than not it is a nightmare! May I say thank you to C & D Solicitors for their hard work and efficiency throughout the purchasing process I would definitely recommend them to anyone wishing to buy property in Spain".
Judith and Gerry Compton (Alcaucin, Malaga)
"I am delighted to be able to congratulate your team on the excellent service that we received on our property sale. The sale included a mortgage redemption and attendance to transferring the utility liabilities to the new owner. Throughout the transaction, which incidentally was very quick, you provided speedy answers to all of our inquiries. This contrasted in the extreme with the tardy service that we received from our previous Spanish solicitor engaged in our purchase. Well done, it was very encouraging to receive a prompt, friendly and professional service".
Lilian&Dr. Stephan Engel (Periana, Malaga)
"Picking a solicitor to represent and guide us through the process of property purchase was an important decision. After all, to be effective and successful, this absolute stranger required nearly unlimited "Power of Attorney" to complete the purchase process and mortgage application in our absence. So, whilst searching for a property in the Axarquia area, we enquired with multiple estate agents after a reliable solicitor. The responses we received were varied, from "do not waste your money, use a Gestor instead" to "a good solicitor is the best investment you can make".
We were given a range of names, but the recommendation that popped up over and over again was that of this energetic and reliable partnership in Torrox Costa, i.e. "C & D Solicitors". Eventually, we decided to arrange an appointment with this young firm, signed up straight away, and have not regretted it since.
C & D have guided us successfully through the pitfalls of buying a house in Spain, whilst doing so have advised us on two occasions against the purchase (due to legality issues), and have finally completed on our behalf in December 2010. During the past year both partners have acted efficiently, reliably and professionally, investing significant energy, initiative and time to ensure the completion could go ahead despite last-minute setbacks.
We are absolutely convinced we made the correct decision in selecting C & D as our legal representatives. It was money well spent and we unreservedly recommend their services. As a measure of our happiness with the support received and the trust in Gustavo Calero and Francisco Delgado, we have just decided to extend the "Powers of Attorney" to ensure they can continue to act on our behalf for years to come".
Julien Busselle (Nerja, Malaga)
"…We have heard from the bank that the money from the sale of the penthouse in Nerja has been paid in. We would like to thank you for handling the sale of the property so quickly and professionally. We would be very grateful if you could arrange for all the money in the account to be transferred to her account in the U.K."